Latest News - by Sean Tiernan
October 2015
We are busy travelling to France and we have recently sourced and purchased some very interesting prospects for our clients and trainers in the UK and Ireland, both raced and unraced horses. We are also busy buying foals and young horses in France for our clients. And we continue to strenghten our network and close business relationships with French breeders.
March 2015
Cheltenham came and went and 2 horses we sourced in France did extremely well - Peace And Co and Don Poli. We have sourced 2 of the last 3 Triumph Hurdle winners, namely Our Conor and Peace And Co. Don Poli won the Grade 1 RSA Chase
Another one we bought for a client is Kentucky Star, who won for Denise Foster recently. And the horse Cookie Ring did well for Foulrice Park Racing in Wolverhampton, UK. This horse came from, Christy Roche's yard.
The horse Coeur Joyeux finshed 2nd in a good 4 yo bumper at Leopardstown on Feb 28th on his debut. We sourced him as a yearling.
February 2015
As usual February saw the mad rush before Cheltenham for young horses aimed at the 2015/2016 season. We have been to France 3 times so far this month looking at young stock, both at the sales and on the farms. We saw many lovely young NH stores and we were well received and drank many cups of coffee with friendly French vendors.
Deals were done, horses purchased and happy clients all round.
January 2015
The Danehill Dancer son Pirateer has followed Sageburg to Garryrichard Stud. We previously purchased him from Coolmore to stand in France, which he did for one season and he has now relocated back to Ireland.
Pirateer, by Danehill Dancer, Sire of top-class stallions Mastercraftsman, Choisir and Jeremy.
Pirateer is out of the beautifully bred Shirley Heights dam Wannabe.
2014 - Horses that we saw and recommended
These are horses that we sourced in France and put forward to owners and trainers.
Peace And Co
Don Poli
Ange d'Amour
Cantilien
Zarib
Fou et Sage
Polygona
And more ...
December 2014
Sageburg relocates to Ireland
PEAK RACEHORSES plays important part in Sageburg coming to Ireland, bringing his success as a stallion with him to follow in the footsteps of Jeremy.
Garryrichard Stud has acquired the Group 1 Prix D'Ispahan winner Sageburg to stand his first Irish stud season in 2015. Previously standing at Haras de la Gastine in Normandy, the son of Johannesburg follows in the footsteps of such great stallions as Arctic Slave, Callernish, Over The River, Master Owen and Jeremy to have stood in the renowned Co. Wexford establishment.
I initiated the contact with the horse's owner, Jean-Pierre Dubois, a man with whom I have done much business over the years.
I had seen Sageburg before and loved everything about him, and have come across lots of nice horses by him in France. I had a close association with Jeremy in that I bought Our Conor as a young horse and was devastated by the loss of both horses this year. I suggested Sageburg to Denis and that's how it all came about.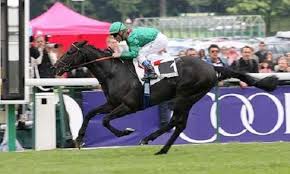 Garryrichard's owner Denis Hickey is delighted to have secured the good-looking 10-year-old as a replacement for the recently deceased Jeremy:
"We are lucky to acquire a horse so similar to Jeremy in every way. Just like him he has sired Group winners on the flat and has also produced quality jump winners. In addition to this Sageburg also comes from a very good family. His dam is a Group 2 winner and is a full-sister to an Arc winner Sagamix so he has an ideal mix of speed and stamina. Physically, he is a lovely, quality dark bay horse, and he gets bay foals. He is 16.1, has loads of bone, stands over a lot of ground and has a lovely temperament. He is very relaxed and has settled in here well."
"He is by a top-class sire in Johannesburg, who is turning out to be a good sire of sires. He has two sons Teuflesberg and Scat Daddy that have already sired Group 1 winners."
The deal to bring Sageburg to Garryrichard was negotiated jointly by me (acting for Denis Hickey) and Bernard Stoffel of Blue Spirit (acting for Jean-Pierre Dubois).
Sageburg is best known in Ireland as the sire of the Aidan O'Brien-trained Peace Burg, which was campaigned here by owners Paul Shanahan and M V Magnier, having been bought for 700,000GNS at the 2013 Tattersalls December Sale. A Group 2 winner in France, she was Group 1-placed in the Falmouth Stakes this year. Sageburg has also sired three other Group-placed runners on the flat.
Sageburg's first runners over jumps have been making their mark recently too. He has sired two Listed winning hurdlers in France in the last month (Ange D'Amour and Fou et Sage), from his first crop of four-year-olds. He also sired the Champion three-year-old bumper horse in France last year, Allez Colombieres, which was with Willie Mullins and doing so well, when unfortunately the horse broke its leg recently.
SAGEBURG is now available for breeders to inspect at Garryrichard Stud. For any further information please ring Denis Hickey on 087 917 5744.
Cheltenham 2014
This year we also arrived at Cheltenham with great expectations, but it turned out to be a rollercoaster for us. Tuesday was a day to forget because of Our Conor. He was such a young brave horse and having spoken to Dessie Hughes right after the race, we both agreed that his bravery cost him his life. Tuesday night became a bit of a blur.
Wednesday, Bryan Cooper got badly hurt, so I spent Wednesday night in Gloucestershire Hospital with his dad Tom, a good friend of mine. Thankfully Bryan is making good progress back home in Kerry now.
Friday was a good day with Don Poli winning the Martin Pipe for Willie Mullins and Mickey Fogarty riding him. I could throw a stone from our farm to Mickey's, so that was a good feeling. We bought Don Poli as a 2yo in June 2011 for a French client, and Willie subsequnetly bought him after his first run. Its great to see he's doing so well and he's a chaser in the making.
________________________________________
HORSES THAT GOT AWAY!
So Young as a 3yo.
Saint Aire as a 3yo.
Saphi River as a 3yo.
Sweet my lord as a 3yo.
Dalino as a 3yo.
Quito de la roque as a 3yo.
Wigmore Hall as a yealing
If you have a horse for sale, please email us the details to sean@peakracehorses.com.